From Where I Stand by Jody-Wilson Raybould (Book Review)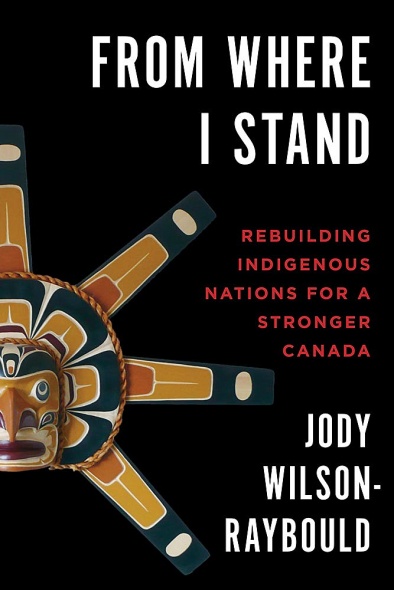 During the 2015 Canadian Election campaign an innocent-seeming Justin Trudeau promised a different type of politics, one of "sunny ways". This remark helped to contrast the young Trudeau's leadership style to the seemingly dour and cold Prime Ministership of Stephen Harper. Four years later the sun had been fully eclipsed by the dark clouds of the SNC-Lavalin scandal. In early February the Globe and Mail published an article which suggested that Jody Wilson-Raybould had been booted out as Minister of Justice for her refusal to offer the Quebec-based firm SNC-Lavalin a deferred prosecution agreement (DPA).[1] By the end of the month Jody had delivered a devastating testimony in the Justice Committee. The media anticipation for the event was unparalleled in recent Canadian political history and JWR's opening sentences did not disappoint:
For a period of approximately four months, between September and December of 2018, I experienced a consistent and sustained effort by many people within the government to seek to politically interfere in the exercise of prosecutorial discretion in my role as the attorney general of Canada, in an inappropriate effort to secure a deferred prosecution agreement with SNC-Lavalin.
One can only imagine the sinking feeling senior Liberal cabinet members must have had as they listened to Jody list the retinue of inappropriate conversations she was forced to have with senior staff in the PMO, PCO, and Department of Finance. But the coup de grâce occurred at end of her testimony.
I come from a long line of matriarchs and I'm a truth teller, in accordance with the laws and traditions of our big house. This is who I am and this is who I always will be. Gilakas'la. Thank you.
For a Prime Minister who had repeatedly invoked reconciliation as one of, if not the most, important priorities of his government, Jody's invocation of her aboriginal heritage as the means of strength by which she had stood up to him, the Liberal party, and the private political power of SNC was the moral equivalent of a ton of bricks crashing down of the woke-washed Liberal edifice. It seems Justin's "cool" Haida tattoo on his biceps was skin-deep after all. While Mrs. Wilson-Raybould's contribution to the protection of prosecutorial independence will forever enshrine her in Canadian political history,[2] some of her most important work as Minister of Justice and her life more generally has been directed at helping First Nations navigate into a post-colonial world. Jody's recently published book, From Where I Stand, contains dozens of essays written over the past decade outlining how reconciliation needs to happen between the Canadian government and Aboriginal Peoples and why it is this country's ethical and legal obligation.
Before reading this book it had been quite a while since I had thought about the issues of aboriginal rights and reconciliation. When preparing for an interview with the Department of Aboriginal Affairs I had reviewed the foundational aboriginal title cases such as Calder [1973] or Delgamuukw [1997] and I was aware of the BC Treaty Process as my father worked for the provincial government. Living in downtown Toronto I am embarrassed to say that aboriginal issues are largely a conceptual one for me; beyond the unenthusiastic land acknowledgements made at the beginning of events. Jody's book has helped me better understand how issues of Rights and Recognition, Consultation, and Governance are every Canadian's responsibility to understand at a minimum. Those who wield significant political or private power have a greater responsibility in addressing or assisting in reconciliation.
If two words had the be used to describe From Where I Stand they would be measured and optimistic. Nothing is said with hyperbole and often times one wishes the author would state things more forcefully or even with hyperbole! Taking her role as a truth-teller very seriously, only the most reasonable of assertions is ever made. While I was surprised to find such a high degree of optimism in many of the essays, it makes sense in context of how bad things once were within living memory.
To this end, we truly have come a long way in the last fifty years. Fifty years ago, Canada was a long way from answering the legal question as to whether or not there was still Aboriginal Title in British Columbia. Fifty years ago, we did not know the scope and extend of the Crown's fiduciary relationship with us as Aboriginal Peoples in the wake of the colonial legacy and the assumption by the Crown of legal responsibilities for our affairs. We did not know the legal extent of our Aboriginal Rights. The Canadian Constitution had not been amended to address our peoples' right in section 35, and there were no First Nations in Canada that were recognized as being "self-governing" - there were no settlements of comprehensive land claims and no comprehensive or sectoral self-government initiatives… In fact, fifty years ago there were no First Nations lawyers, because prior to 1951 the Indian Act defined "person" as "an individual other than an Indian."
Throughout the essays, Jody repeatedly states that this is an exciting time for nation building, or to put it in more historically accurate terms, nation re-building. First Nations' political structures were obliterated as Europeans slowly settled across North America over a period of several hundred years. These groups can view themselves not as making new systems of government but rather re-establishing a form of aboriginal governance that had existed in North America for thousands of years. Again, an positive framing of the issue.
It has been often noted that the amount of money spent on aboriginal programs has not led to substantial improvements in socioeconomic outcomes, particularly on reserves. Furthermore, the aggregate litigation costs for establishing aboriginal rights must now be in the billions of dollars. Who has gotten all of this money? Lawyers, civil servants, anthropologists, and consultants? A sign of a mature thinker is someone who provides accurate criticisms from the perspective of ones opponent in a way that they would agree with.
While some pundits may criticize us – whether as politicians, lawyers, or consultants – that we are now part of an "Indian industry" enriching ourselves on the backs of the suffering our our people who live back home, I do not subscribe to this condemnation of our collective aspirations to better the lives of our people. Having said that, it is not hard to see why the pundits, perhaps egged on by the dispossessed in our communities, have a perception of us as elites. We need to overcome this perception by ensuring our Nations are supported in their building. We all need to think like a community development worker first.
There is something particularly refreshing about a lack of ego in politics. Whether female politicians are generally more willing to comprise than they male counterparts or whether the traditions of consensus building in First Nations play some role it would be impossible to say for sure, but throughout the book I actually got a glimpse of what "sunny ways" politics might look like.
At some point, we need to have a broader conversation about aggregation and creating more effective machinery of government – not just at our Nation level but beyond. To be sure, no sovereignty in today's world is absolute, including ours. Nations need to partner–we need to parter–amongst ourselves and beyond. No person, no community, no Nation, indeed no state, is an island. We all breathe the same air and drink the same water.
There are several places in the book when one realizes that Jody had already been making it very clear that she would not compromise on her duty to carry out her constitutional duties. The fact that the PMO continued to harangue JWR to pursue a DPA makes we wonder, did they ever read her speeches? Did they think she was being serious? If I had to guess, they were probably aware of her public pronouncements but assumed they were being made in the spirit of rhetorical grandeur political aspirants are often wont to do.
And now, having been appointed Minister of Justice and Attorney General of Canada, essentially the steward of the Canadian justice system, I am responsible for the very laws and policies that so many of us had worked so hard to change. The fact that Indigenous Peoples were left out of Confederation in 1867 as partners has had far-reaching implications for Canada in the tumultuous intervening years. In many ways, what we're doing today is correcting that mistake.
If the goal of reconciliation is to navigate the through "post-colonial door", then the door has three states: closed, partially open, and fully open. Up until recently the door has been closed. Aboriginals could not vote, and they could not practice law or even mount legal challenges. Now, the Crown and First Nations group have cracked open this door. Reconciliation means that Canadian society and government fully open this door in a way befitting our historical intent and honour of the Crown, a term well summarized in the final ruling of Haida 2004 by the then Chief Justice of the SCC Beverly McLachlin.
The government's duty to consult with Aboriginal peoples and accommodate their interests is grounded in the honour of the Crown. The honour of the Crown is always at stake in its dealings with Aboriginal peoples. It is not a mere incantation, but rather a core precept that finds its application in concrete practices… Put simply, Canada's Aboriginal peoples were here when Europeans came, and were never conquered. Many bands reconciled their claims with the sovereignty of the Crown through negotiated treaties…. The honour of the Crown requires that these rights be determined, recognized and respected. This, in turn, requires the Crown, acting honourably, to participate in processes of negotiation. While this process continues, the honour of the Crown may require it to consult and, where indicated, accommodate Aboriginal interests.
The final step through the door however must be done by Indigenous peoples. This is where new Governance Toolkits will play a role. Jody has written extensively on what governance in a post-Indian Act world would like as the Regional Chief for the B.C. Assembly of First Nations. Citizenship, land management, and fiscal arrangements are its constituent parts. The one place in the book where I did disagree with Jody however was her criticism of the First Nations Financial Transparency Act (FNTPA), legislation passed originally under the Harper government. That the government failed to carry out a necessary level of engagement to have meaningful consultation is probably true. Additionally, given the long legacy of a failed fiduciary responsibility, the federal government needs to be very careful that it does not appear to be attacking the fiscal competence of aboriginal groups. However I take the view that transparency, whether it is imposed from the top or demanded from below, is almost always a good idea. Lopsided demands for transparency can be unfair. For example, if only First Nation bands were required to publicly disclose their council and chief's salary whereas municipal or provincial governments were not, this would be unfair – but this argument is not being made as far as I know. In retrospect, a more politically savvy strategy would have been to talk to ordinary band members and ask what sort of transparency measures they wanted, summarize this in a report, and the base legislation on this democratic information.
From Where I Stand provides a concise guide to understanding some of the key issues and challenges of moving to a post-Indian Act world. This book is particularly well-suited for someone who has a decent knowledge of Canadian politics but does not have a strong understanding of aboriginal issues. It will be interesting to watch whether Jody's passion and spirit for reconciliation and aboriginal governance will be harnessed by the new parliament or whether her refusal to play partisan politics will relegate her talents and skill to the political wilderness. Let us hope it is the former.
---
Footnotes
DPAs allow Canada's Crown Prosecution service to (permanently) defer criminal sanctions against a company when the said company has self-acknowledged its criminal behaviour and shown sufficient internal redress. The goal of having DPAs is to elicit companies to come forward and admit criminal wrong-doing to the government in order to be able to clean up corporate governance sooner rather than later. In the case of SNC, most of the senior leadership responsible for the corrupt business practices in Libya were removed but at no point did SNC ever come forward on its own to admit wrongdoing. ↩

It is probably impossible to overstate the importance of prosecutorial independence in a free society. Justice requires that a society both constantly interrogate whether the laws of the land are themselves just, and whether those laws are being carried out justly. As the American political system slides into total chaos and corruption, one of the first things to go is an independent Department of Justice which has now become the President's rather than the people's legal team. In a country where the choice of which laws are applied is the subject of political discretion, rather than political legislation, the powerful and corrupt will always win out. If, as the Liberals were constantly claiming, the successful prosecution of SNC would lead to significant economic costs to our society, they could have easily passed legislation which allowed companies charged with criminal wrongdoing to continue to bid for public contracts. This distinction is important, the government wanted the appearance of a society in which corruption would not be tolerated while simultaneously pursuing a strategy of subterfuge to undermine this principle. Jody accepted her Director of Public Prosecution's recommendation to deny SNC a DPA because she recognized the civil services' senior lawyers had the necessary legal training to be able to understand and interpret the law in contrast to a high-school teacher cum Prime Minister. ↩
Written on December 7, 2019