Claws of the Panda by Jonathan Manthorpe (Book Review)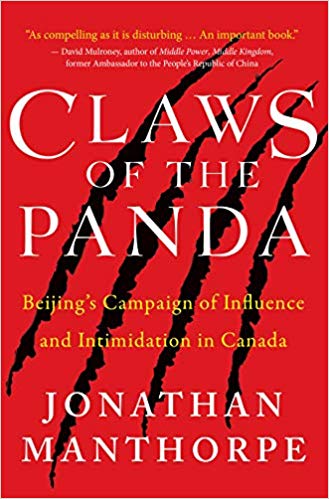 I am not sure whether Cormorant Books intended it or not, but the publication timing of Jonathan Manthorpe's new book Claws of the Panda in January of this year was impeccable. One month before, Meng Wanzhou was arrested at YVR Airport at the request of US authorities pursuant to our extradition treaty as it was claimed that as Huawei's CFO she was involved in violating US-imposed sanctions on Iran. The ensuing response has led to worst diplomatic relations between Canada and China since the Tiananmen Square massacre. The Canadians Michael Spavor and Michael Korvig, a businessman and former diplomat, respectively, have been detained by Chinese authorities under charges of espionage which has been interpreted as bald faced hostage taking. The highly undiplomatic Chinese ambassador Lu Shaye wrote a deranged op-ed for the Hill Times in which he accused Canada of white supremacy (!) and warned of repercussions if Canada were to block Huawei's selling 5G network technology to Canada.[1]
Events have continued to heat up since January. As of April two Canadians have been sentenced to death on drug charges. It turns out that we have seen this play-by-play before: in 2014 the Canadian couple Kevin and Julia Garratt were arrested for espionage in response to Su Bin being detained in Canada on a US extradition request for his role in stealing military data. After almost two years Kevin Garratt was released and Su Bin was sentenced to four years in prison. In addition to the suffering of the Garratt family, the wrong lesson was learned by senior members of the Canadian government: patient diplomacy and the use of the Trudeau/Liberal friendship with Beijing would be able to smooth over political spats with the Communist Party of China (CPC). However in the most recent dispute China has taken off the gloves and retaliated with the one lever it has yet to pull: the economic one. While Canada has a 49 billion dollar trade deficit with China, it still exports 26 billion dollars of goods, the majority of which are commodities and agricultural products. This number is likely to fall substantially in 2019. Beijing has blocked billions of dollars or agricultural exports into China through non-tariff barriers (bogus health and safety claims) and has sent the message that buying Canadian products will lead to additional hassles. This is an old move by the CPC and countries like Norway have seen their salmon exports cut off after the Chinese dissident Liu Xiaobo was awarded the Nobel Peace Prize and Australia's coal exports have been held in ports in retaliation for failing to grant Huawei and ZTE access to the country's 5G network.
While these bullying tactics have become common under Xi's new imperial foreign policy, they come as a shock to elites of the Canadian political and business establishment. Why? As Manthorpe lays out in his book we had assumed that if Canada played the friend of Beijing, we would be treated as a friend. And Canada has been a good friend. Canada was one of the first countries to recognize the People's Republic of China (PRC) diplomatically in the 1970s and Ottawa minimized its criticism over Tiananmen and has remained silent on China's military buildup in the South China Sea. While the fantasy of a permanent harmonious Sino-Canada relations has been shattered in 2019, it is surprising that it has taken this long for the political elites to wake up to the threat of China given the long history of disappointed expectations in our countries' bilateral relationship.
The tantalizing prospect of access to a Chinese market with almost 1.4 billion people has remained illusory for almost 50 years since Canada began its trading relationship by exporting agricultural crops at a time when the country was literally on the brink of starvation.
Diefenbaker's cabinet was not quite as overjoyed as Hamilton[2] with the idea of lending the CCP Canadian money to buy Canadian wheat and barley. Some Ministers pointed out that bank loans required government guarantees, which mean that Ottawa was giving de facto recognition to the People's Republican of China. Indeed, it can be argued that this wheat and barley agreement was the moment when Ottawa formally accepted the CCP as the legitimate government of China, though the legal niceties and exchanges of diplomats were yet to come. The cereals agreements saw Canada-China trade expand from about 9 million CAD in 1960 to 147 million CAD two years later. Through the 1960s, the volume fluctuated between 100 million CAD a year and nearly 200 million CAD. More important for the future however, it established a paper trail of mutual trust in doing business that prepared the way for diplomatic recognition.
But even today, virtually all our goods sent to China are commodities while our largest imports from China are electrical machinery and equipment. This is particularly surprising given that Canada is a high value-added service economy and China is a developing country in GDP per capita terms. But while classical notions of comparative advantage may determine Canada's imports, it does not determine our exports with China as vast sectors of the country's economy are closed off to Canadian and Western businesses. The hope that China's admission into the World Trade Organization would change this has proven illusory.
Claws of the Panda itemizes a long list of other failed dreams of the relationship between Canada and China. One is the Immigrant Investor Program which was set up under the Harper government and aimed to bring in high-net worth individuals who would invest substantial sums into Canada and boost economic growth. Instead the program admitted a large number of individuals who were seeking a place to launder money, get second passports, and had no intention of settling down in Canada (half of the accepted individuals were unable to speak either English or French). The program was suspended in 2014 and was considered a failure.
Perhaps the greatest hope of Sino-Canadian relations was embodied in our educational sector and cultural exchange programs. Chinese students now make up 66%, 33%, and 25% of the international student body at the University of Toronto, British Columbia, and McGill, respectively, which are Canada's three most prestigious and important universities. Because Chinese students now total almost 150K and pay tuition fees which are multiples of domestic student, threats to withdraw study visas now represent another economic leverage point Beijing can apply towards Canada. In addition to the potential risks to our universities, there are now decades of publicly available evidence that the PRC has already used its overseas student body and the Chinese diaspora to undermine academic freedom and influence Canadian democracy. The Confucius Institutes (CIs), which were supposed to be the Chinese equivalent of a Goethe-Institut or Alliance Francais by promoting Chinese culture and history, have now been thoroughly discredited in Canada and other countries as being solely a propaganda tool for the CPC. The government of New Brunswick is finally pulling the plug on its CIs because of complaints from students and parents that specific topics were off limits in its classrooms (Tibet, human rights, etc). Although New Brunswick is 5 years behind the Canadian Association of University Teachers which called for a cancellation of all CI associations in Canadian universities once it became clear that only Beijing-approved professors would be allowed to participate.
Canada has become a battleground on which the Chinese Communist Party (CCP) seeks to terrorize, humiliate, and neuter its opponents. It is a war being conducted in plain sight, but largely unremarked, as the CCP's diplomats, spies, security officers, and local agents of influence go about the daily business of trying to nullify the efforts of those it believes are set on over-turning China's one-party state. It is a war of intimidation and harassment of Canadians other other from the Five Poisonous Groups–advocates of independence for Tibet, Xinjiang, and Taiwan, promoters of democracy in China, and adherents of Falun Gong (also known as Falun Dafa), a group that advocates a Buddhist approach to spiritual and physical health. The attacks range from abusive midnight phone calls to character assassinations in social media, intimidation of Chinese students attending Canadian colleges and universities, holding hostage in China the family members of Canadian dissidents, and hacking the communications networks of dissident groups. In extreme cases, dissidents have been either physically attacked or detained and tortured–though the violent physical attacks have been in China or Hong Kong, not in Canada. In all cases, however the aim is to smother the voices of dissent in Canada, either by intimidating Canadians into silence or by so discrediting them that what they say or do no longer has public or political support.
High profile Chinese Canadians like Anastasia Lin have publicly documented the intimidation strategies Beijing used including threatening her family for her continued criticism of China's human rights record. A month after Claws of the Panda was published, Chemi Lhamo was elected student president of the University of Toronto's Scarborough Campus. Because she is Tibetan she has received a coordinated online harassment and intimidation campaign which has almost surely been coordinated by the CPC's agents of influence in Canada. The Toronto consulate of the PRC gave a response which is revealing both because it fails to condemn an illegal and coordinated harassment of a 22 year old and encourages such behavior:
It is believed that this is an entirely spontaneous action of those Chinese students based on objective facts and patriotic enthusiasm.
Such high-profile cases of intimidation mask the daily pressure which is exerted in the Chinese-Canadian and student community. For example Chinese Student and Scholars Associations have been used by Chinese consular authorities throughout the Western world to mobilize counter demonstrations to pro-democracy protests and keep tabs on Chinese students studying abroad to make sure they are not "infected" with democratic ideas.
Commentators like Clive Hamilton have suggested that if the Meng arrest had not occurred in 2019, the CPC may have won sufficient influence among Canadian elite opinion within several years to have permanently limited our country's ability to push back against future Chinese demands. Ground zero of Beijing's influence campaign has been through the Liberal Party of Canada. Part of this is a historic legacy. Trudeau Senior was one of the first Western country leaders to establish official diplomatic relations with the PRC in the 1970s which won Canada both trade concessions and an out-sized influence in the country for decades. Furthermore the Liberal party is wholly aligned business establishment in Ontario and Quebec which is pro-Beijing. Note that during the re-negotiation of NAFTA the Liberal government was able to mount an impressive and coordinated defense of Canadian interests and fight back against Trump's bullying tactics with retaliatory tariffs, a campaign of public patriotism, and an intelligent mobilization of pro-Canadian forces south of the border including the US Chamber of Commerce and state Governors. In contrast the Trudeau Liberals have been caught completely flat-footed to China's similarly aggressive bullying tactics. The CPC is clever in the way it manages its influence campaign. Instead of changing the mass of public opinion, it targets selected individuals likely to have important political or economic roles in the country. The messaging used to promote China's interests are also tailored for each country. Manthorpe explains:
It was also this period of the Korean War and the years immediately after that Canada's relationship with the United States began to play and influential part in the story of the push and the pull of Canada's relations with China. For the CCP and its agents, these years provided a master class on the subtleties of Canadians' complex feelings for the United States: the admiration, affection, jealousy, and pervasive sense of moral superiority that can spill over into disdain. The CCP learned in this period that anti-Americanism in Canada could be a useful tool that is easily aroused and fairly simple to manipulate. This played out in the broader context of the start of the Cold War and fears in the United States of communist subversion in government and other institutions that found its inevitable expression in the witch hunts of Senator Joseph McCarthy.
The penetration of Beijing's influence campaign for several high-ranking Liberals is illustrative. To start there is John McCallum, an old Liberal-hand, who has served the party since the Chretian era. McCallum seemed the perfect party-political pick for ambassador to China in 2017 due to his family connections to the country (his wife is Chinese) and his cozy relationship with the PRC (he has received $70,000 in sponsored trips paid for by Beijing during his political career). According to Manthorpe, Beijing assiduously cultivates these relationships with what Anne-Marie Brady has called friends of China – people like McCallum – who are rewarded with junkets, public praise, and diplomatic access. However being a friend of Beijing comes with its own set of obligations. McCallum's public comments that Meng had a "strong case" because of Trump's "political interference" and that it would be "great for Canada" if the US dropped charges against Meng were seen as inappropriately biased and McCallum was forced to resign his post. In the years to come I will wager that McCallum will be "rewarded" for his loyalty to Beijing in the form of cultural ambassadorships or consulting contracts.
The Canadian Senate now has a significant number of known pro-Beijing Liberals:
Senator Peter Harder, who headed up Trudeau's 2015 transition to office, is a former president of the Canada-China Business Council. He's also a former president of the Pierre Elliott Trudeau Foundation, which was controversially enriched in 2016 by a $200,000 donation from a Chinese banker and Communist Party insider. Harder is now the government leader in the 105-member Senate.
The Senate's small "official" Liberal caucus is headed by Senator Joseph Day, the chairman of the Canada-China Legislative Association, which regularly brings together Canadian parliamentarians with China's rubber-stamp People's Political Consultative Conference. Even though Chinese Foreign Minister Wang Yi won't even return Chrystia Freeland's telephone calls, Day and a small group of legislative association parliamentarians were on a guided tour of Chinese cities just this past week. During the group's previous tour in January, only a month after Kovrig and Spavor were whisked off to detention centres and denied access to lawyers, their case wasn't even on the agenda, Senator Day admitted at the time.
[B]y far the largest caucus in the Senate is the 58-member "Independent Senators Group," now led by one of the most controversial senate appointments in recent years, Yuen Pao Woo. The group is made up mostly of Liberal senate appointees…. And although Woo doesn't like being described as "Beijing-friendly," he is rarely described any other way. Woo's maiden speech in the Senate was in opposition to a motion Ngo put forward protesting Beijing's annexation of the South China Sea and its persistent defiance of international law.
On the provincial level there is the now infamous case of Michael Chan who was Ontario's Minister for Citizenship for Immigration and International Trade. His close connections to the PRC's Toronto consulate prompted CSIS to warn Ontario's premier that he may the subject of undue influence. While Chan denies any wrongdoing and is suing the Globe and Mail for defamation he openly admits to having a role eerily similar to Anne-Marie Brady's friend of China influencer:
For me, it is how I am able to bridge Canada and China … I can be in a position to promote both jurisdictions for the benefit of the people. I think that's important.
It is rare for a Cabinet Minister to openly talk about having a quasi-diplomatic role with a foreign country (unless they are the foreign minister of course!). One is hardly surprised that we find Chen having actively supported the establishment of Confucius Institutes with the Toronto School Board, making pro-Beijing statements when in China, and hiring aides who have been involved in organizing counter demonstrations to pro-democracy protests. But Chen's ability to raise large amounts of money for the Ontario Liberal Party have ensured he is untouchable and remains nested in the business establishment as an advisor for one of Canada's most prestigious law firms. Then of course there is Trudeau himself who would have grown up in a pro-Beijing household and would have known key Liberal Party supporters and donors who are largely considered to be pro-CPC. A gaffe he made in 2013 as a candidate reveals a clear blind spot:
There's a level of admiration I actually have for China. Their basic dictatorship is actually allowing them to turn their economy around on a dime.
It is sometimes hard for Canadians to understand what it is like to live in a Communist dictatorship – especially one that is on the cutting edge of technological development and has many of the trappings of a developed country. Take the Xinhua news agency, China's largest and most influential media organization. It is the eyes and ears of CCP. In addition to the outward facing news reports which parrot the stance of the CPC, Xinhua has internal journals produced for limited distribution including the Reference News for mid-level officals, the Internal Reference for ministers and above and lastly classified reports for the Politburo Stading Comitte which would include topics like the outbreak of SARS. How can democracy emerge in a country with this level of Orwellian media control?
Canada is several years behind Australia and New Zealand in recognizing the threat that Chinese influence can have on undermining democratic institutions. Luckily the publication of Claws of Panda has given Canadians a sweeping and authoritative look on how China has spied on our country, infiltrated our businesses, stolen our government secrets and harassed Canadian-Chinese citizens for decades. Manthorpe can be personally credited for helping to shape the current policy discussion around China. And it is having an effect. The Conservative Party of Canada is now running on an explicitly tough-on-Beijing platform with language I have not seen from any political party in Canadian history until now.
For decades now, many in Canada have looked to China as a way of diversifying our export markets. But in recent years it has become clear that China's adversarial approach to Canada and the western, democratic world has changed those expectations. This is deeply disappointing, especially when you consider how just 20 years ago there was great hope and optimism that China was ready to join the international, rules-based order. But in the past year, Canadians in particular have learned first-hand how justice in China works. The Meng Wanzhou extradition case has caused much grief in many ways but has been illuminating in others. After the arbitrary detention of Canadians Michael Kovrig and Michael Spavor we should no longer harbour any illusions about China's attitude towards the rule of law. Now we have known all of this for some time yet for many years we looked the other way as the allure of China's market was too powerful to ignore. However, so long as China is willing to hold our exports hostage, all while committing human rights violations, we have no choice as Canadians but to consider other trading partners. And fortunately, we have alternatives. Like-minded democracies in the Indo-Pacific region, for example, some of which desperately need more secure access to energy, are ideal economic and political partners for Canada. A community of free democracies all over the world – in Europe, in the Indo-Pacific, and everywhere in between, united to resist the forces of authoritarianism, built through Canadian leadership. That should be our goal. That will have a deeply consequential impact on global history. At any rate, Canada's relationship with China needs a total reset. And nothing can happen until such time.
---
Footnotes
It is a curious leap of logic to suggest that if Canada's government were actually in thrall to white nationalists and uncritically following its Southern neighbour's irresponsible foreign policy that the best way to make amends would be to purchase telecommunications infrastructure. ↩

Alvin Hamilton was the Minister of Agriculture in Diefenbaker's cabinet from 1960-1963. ↩
Written on April 21, 2019